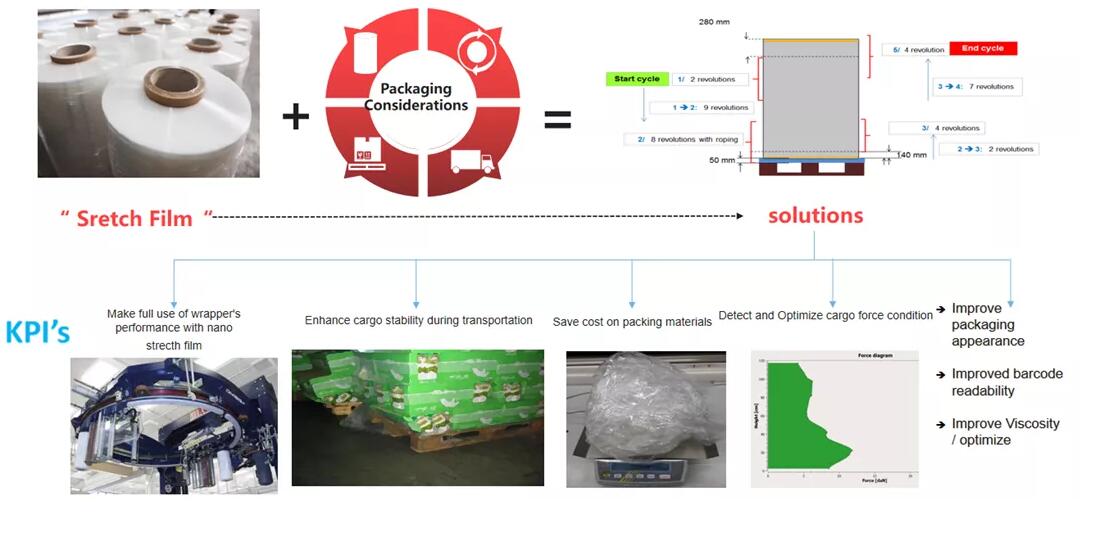 From "Strecth Films" to "Packaging Solutions "
Considering the relative packing factors, Yuandian professional technical personnel seek for one solution of optimal packaging for customers to reduce damage cost and packaging cost ,which can provide pallet stability and annual cost saving on packing materials. The technical personnel can recommend which type of nano stretch films on the wrapper to optimize the wrapper's function and provide pallet stability during cargo transportation. Finally, through force detection and analysis, the technical personnel will create a conclusion and solution for customers.
Some Tips To Enhance Load Stability And Save Annual Cost
a.Reduce deformation of pallets and cargo. Maintain integrity of cargo.
b.Reduce annual consumption of stretch film .
c.Enhance load stability during transportation
d.Test & optimize the load conditions of the pallet.
Advantages Of Nano Stretch Films
※High Stretch
※Cold Resistance
※Strong Puncture Resistance
※Economics(Annual Cost Saving on Packing Material & Damage )
So, if you have some questions, pls leave message on site CONTACT MODULE, we will reply you asap .